A luxury SUV should be able to balance performance, style, and function. When it comes to true opulence, the Audi Q5 and Mercedes Benz GLC both feature luxury trimmings-but which one is right for you? Our team at Audi Ithaca is here to find out.
We've put together this 2021 Audi Q5 vs. Mercedes Benz GLC comparison to show drivers in Ithaca, Corning, and Binghamton, New York, what both models have in store. To compare specs, comfort, and more, read on.
Audi Q5 vs Mercedes Benz GLC: Interior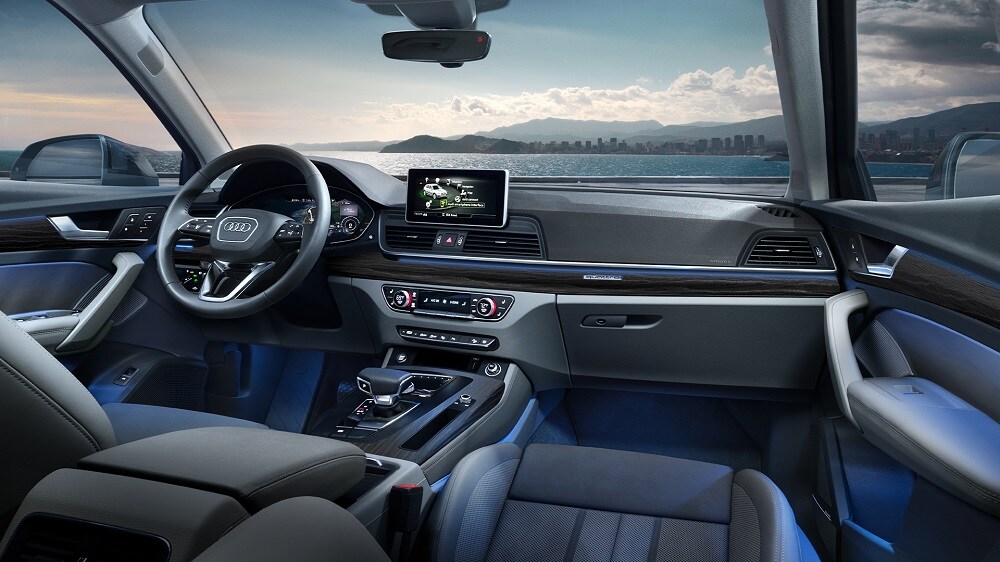 Inside both the 2021 Audi Q5 and Mercedes Benz GLC, you'll find seating for five people and premium luxury. There are standard leather seats and several trim options to choose from, including wood, aluminum, and carbon fiber.
The interior of the Mercedes can be a little stuffy. It covers your dashboard in trim to the point where it looks like a wooden chest or a metal cabinet sitting at the front of your SUV.
The Audi has a more modern appearance and zero eyesores. Whichever trim you choose for your cabin will be tastefully interwoven throughout the interior. Some of the colors you can choose between include:
Brown Walnut Wood
Birch Wood Natural Gray Brown
So, what about storage? You can get more comfortable and carry more cargo inside the Audi Q5. It has 40.9 inches of front legroom and 38 inches of rear legroom. Behind you, this ride offers 25.8 cubic feet of cargo room in the trunk and 54 cubic feet of cargo volume with the seatbacks folded down.
In contrast, the GLC is a bit smaller inside. You'll only have 40.8 inches of legroom up front, 37.3 inches of rear legroom, and just 19.4 cubic feet of cargo room in the trunk.
Audi Q5 vs Mercedes Benz GLC: Performance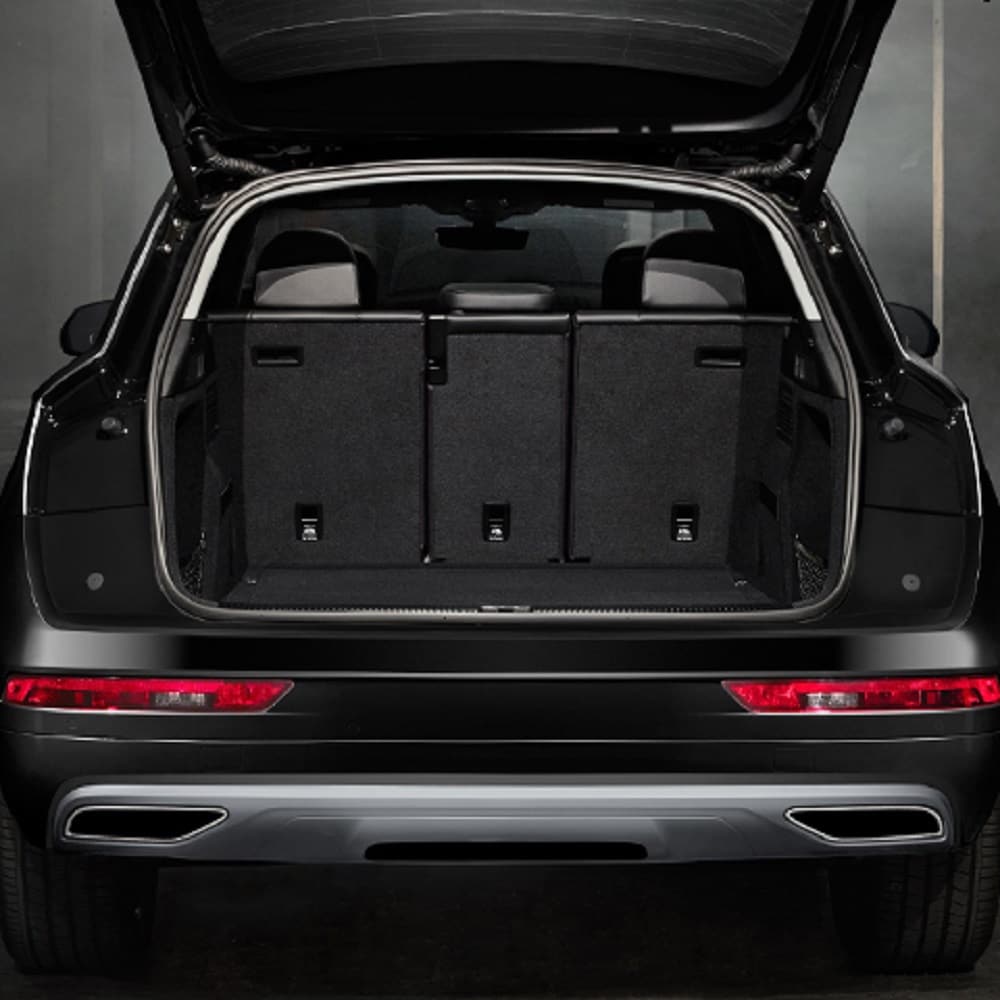 The 2021 Audi Q5 is a performance-inspired luxury SUV that runs on a 2.0L turbocharged TFSI® 4-cylinder engine that gets up to 261 horsepower and 273 lb-ft of torque. This power gives it the ability to go from 0 to 60 MPH in just 5.7 seconds, with a top speed of 130 MPH. You know what that means: This car will get you where you need to go.
Packed up the trunk for a weekend getaway, but need to carry extra weight? No problem. When properly equipped, the Q5 can also be used to tow up to 4,400 pounds in case you need to heft any gear for your next trip.
Comparatively, the 2021 Mercedes Benz GLC also runs on a 2.0L 4-cylinder engine that can get up to 273 lb-ft of torque. However, its output falls a little short with just 255 horsepower.
It's also slower off the line and takes 6.1 seconds to go from 0 to 60 MPH. It also won't be able to haul nearly as much extra cargo with a towing capacity of only 3,500 pounds with the proper equipment.
Let's take a look at those specs under a magnifying glass:
| | | | | |
| --- | --- | --- | --- | --- |
| Model | Engine | Torque | Horsepower | 0 to 60 MPH Capability |
| Audi Q5 | 2.0L I-4 | 273 lb-ft | 261 HP | 5.7 seconds |
| Mercedes Benz GLC | 2.0L I-4 | 273 lb-ft | 255 HP | 6.1 seconds |
Audi Q5 vs Mercedes Benz GLC: Safety Features
Both Audi and Mercedes prioritize safety for their passengers, but when it comes down to it, who goes above and beyond to help keep you secure behind the wheel? Let's take a look at the safety and driver-assistive features available in each to compare.
In the Q5, you'll find the following standard systems:
Audi pre sense® city: Takes certain actions to protect the driver and passengers in the event of a potential collision (for example, automatic seatbelt tightening and windows closing).
Audi active lane assist: Provides steering guidance and prevents unintentional lane departure.
Parking system plus: Uses external sensors and graphic display to aid with parking.
Cruise control system: Assists the driver with acceleration, braking, maintain speed, and following distance.
The Q5 also earned a 5-Star Overall Safety Rating from the National Highway Traffic Safety Administration (NHTSA), which goes to show just how reliable it is.
The Mercedes offers systems similar to Audi. However, basic driver-assistive features like active lane-keeping and steering assist are only optional on this model. You can certainly include them as additions, but they don't come standard. By making their safety features more accessible, the Q5 puts drivers like you and your passengers first.
Audi Q5 vs Mercedes Benz GLC: Drivetrain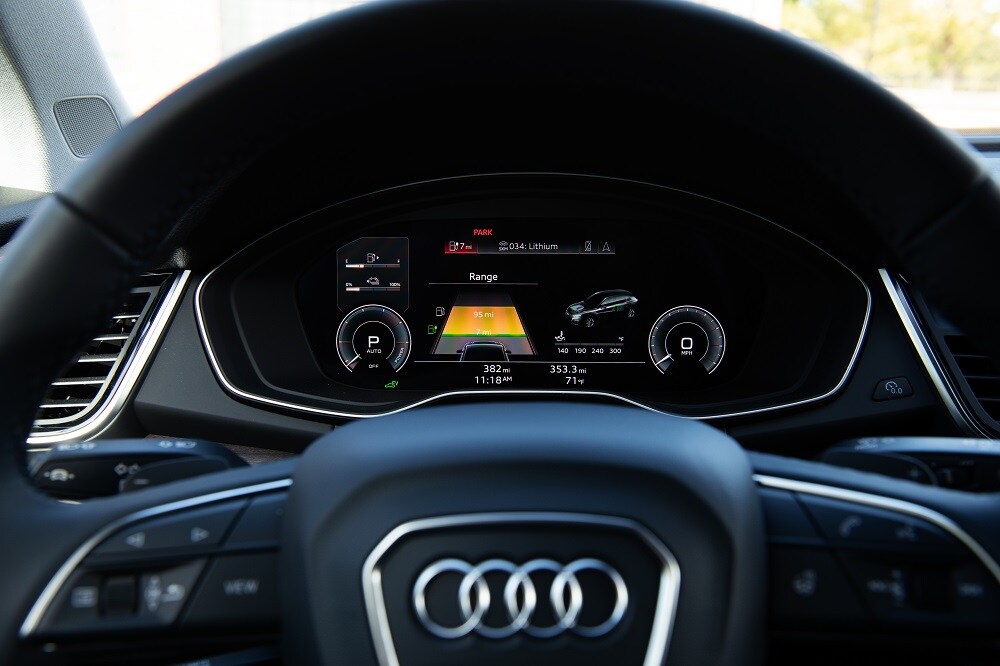 Maneuverability and drivetrain play a big part in your driving experience, so finding the better option will help you to choose the right set of wheels for you. The stylish body and powertrain of the 2021 Audi Q5 sit on top of a drivetrain that you can count on in any situation. It has standard quattro® all-wheel drive to deliver reliable handling no matter what terrain you're driving on.
This versatile drivetrain can help you get a more efficient performance too. Its ultra® technology can monitor when your SUV needs more torque and switch between front-wheel drive and all-wheel drive when conditions call for it.
The 2021 Mercedes Benz GLC uses 4MATIC® all-wheel drive, although it doesn't monitor your drive the way quattro® can with ultra®. This means that with the quattro® system, you'll utilize better traction when accelerating, and you won't have to sacrifice driving dynamics.
When you look at them side by side, the Q5 pulls out on top again.
Test Drive a Luxury SUV Today!
Now that you've read this 2021 Audi Q5 vs. Mercedes Benz GLC comparison, you know all about what both brands have to offer. Have you decided which of the two comes out on top? If so, there's only one more thing you should do.
Contact our team at Audi Ithaca to test drive the stylish and exciting Audi Q5. This set of wheels offers drivers in Ithaca, Corning, and Binghamton, NY, a capable and comfortable drive inside a sleek luxury SUV. Get in touch with us or visit our dealership to learn more. We'll help you schedule a test drive today!